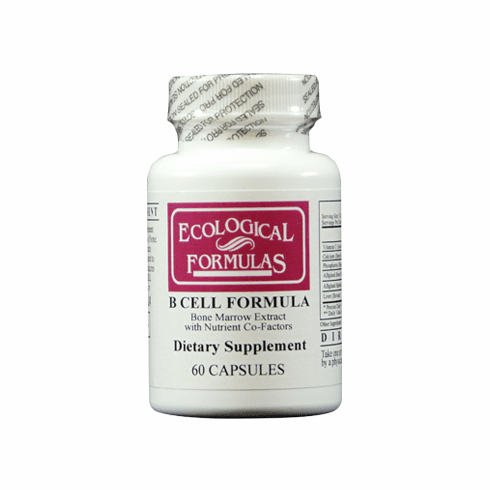 B Cell Formula 60 C by Ecological Formulas
B Cell by Ecological Formulas is a dietary supplement designed to support and strengthen the body's natural immune system response.* The key ingredient in B Cell by Ecological Formulas is specially prepared fractions of bone marrow with synergistic glandular extracts. Bone marrow has been shown effective not only at supporting the immune system but also helps to support the intestinal tract, promote healthier skin, hair and nails, support the health of the skeletal system, and support a healthy inflammation response.*

Individuals who take B Cell by Ecological Formulas on a regular basis as directed may enjoy a number of health support benefits:


Supports and strengthens the immune system.*
Supports the health of the digestive system.*
Helps strengthen the hair, nails and skin.*
Promotes growth of strong bones.*
Supports healthy inflammation response.*

Product Info - Serving Size: 2 Capsule

Servings Per Container: 30

Amount Per Serving


Vitamin C (ascorbic acid) 100 mg
Calcium (bone marrow) 9 mg
Phosphorus (bone marrow) 4 mg
ABgland Bone Marrow (bovine) 150 mg
ABgland Spleen (bovine) 250 mg
Liver (Bovine) 250 mg

Other ingredients: Cellulose, gelatin, magnesium stearate, bovine tissue, dicalcium phosphate, silicon dioxide

Suggested Use- Directions: Take one or two capsules daily, or as directed by your Health Care Practitioner .