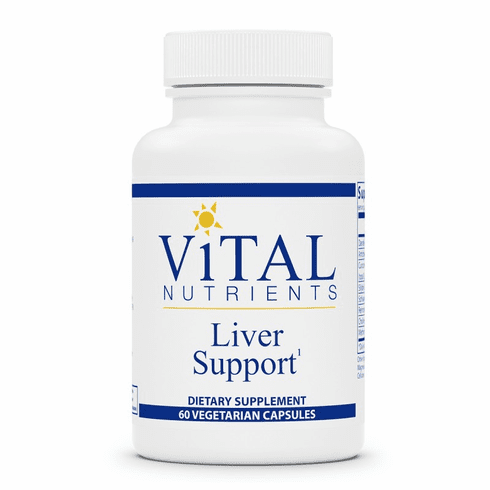 Liver Support (60 C) by Vital Nutrients
Liver Support by Vital Nutrients

Herbal combination to support healthy liver function

helps protect liver cells against free radical damage
supports liver function
helps inhibit arachidonic acid metabolism


LIVER SUPPORT is a unique combination of herbal extracts that works synergistically to support liver function.* It nutritionally supports and protects liver cells from free radical damage.* Silybin, one of the primary constituents of Milk Thistle, supports the liver's efforts to remove chemicals, drugs, alcohol, and other exogenous toxins.* Curcumin is also an inhibitor of arachidonic acid metabolism and has potent antioxidant properties.

Serving size: 2 vegetarian capsules

Servings Per Container: 30

amount per serving - percent daily value


Choline Bitartrate 80mg 15%
Dandelion Root Extract 200mg *
Artichoke Fruit Leaf Extract 200mg *
Curcuma Ionga Rhizome Extract (total Curcuminoids min. 85-90% by HPLC) 200mg *
Silybin Concentrate (70% silybin) 200mg *
Schisandra Berry Extract 80mg *
Rehmannia Root Extract 80mg *
Methionine (L-Form) 50mg *

Other ingredients: Vegetable Cellulose Capsule, Magnesium Silicate, Silica, Ascorbyl Palmitate, and Cellulose.

Warning: If pregnant or nursing, consult your healthcare practitioner prior to use. As with any product, discontinue use if adverse effects occur.