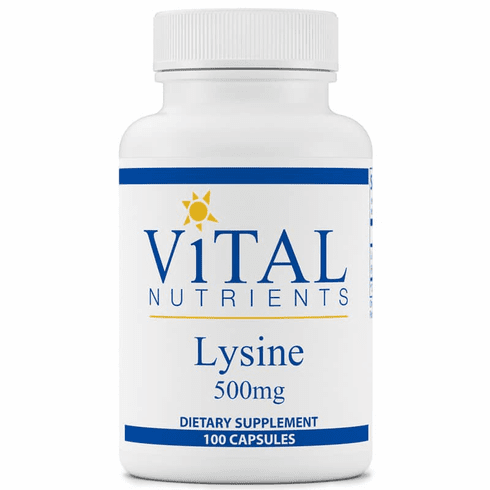 Lysine (100 C) by Vital Nutrients
Lysine by Vital Nutrients

Supports immune function and normal arginine levels

nutritional support for the immune system
helps maintain normal levels of arginine
supports healthy tissue in gums, lips, and mucus membranes


LYSINE provides nutritional support to the immune system.* It is helpful in keeping balanced levels of arginine in the body, which is important for healthy tissue of the gums, lips, and mucus membranes.*

Recommended Dosage:
1-3 capsules 1-3 times daily, or as directed by a healthcare practitioner.

Serving size: 3 vegetarian capsules

Servings Per Container: 33

amount per serving percent daily value
L-Lysine (From Lysine HCl 1875mg) 1500mg *

* Daily Value not established Other ingredients: Vegetable Cellulose Capsule, Ascorbyl Palmitate, and Silica.

Warning: If pregnant, consult your physician before taking.