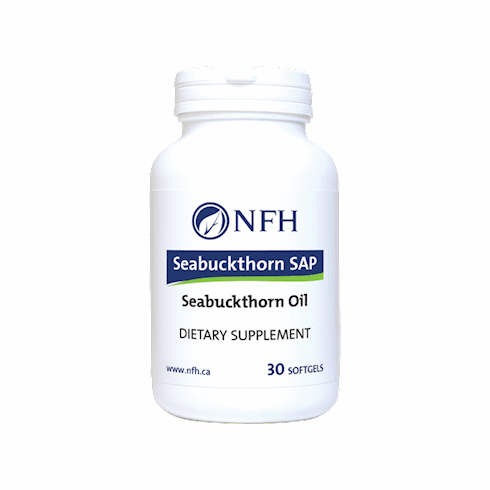 Seabuckthorn SAP 30 softgels by NFH
Seabuckthorn SAP 30 softgels by NFH

Seabuckthorn SAP contains a source of omega‑7 fatty acids also known as palmitoleic acid. Seabuckthorn seed oil and seabuckthorn fruit oil provide essential fatty acids for the maintenance of good health.

Seabuckthorn (SBT) is a deciduous shrub that is native to both Europe and Asia. SBT has been used in both Tibetan and Mongolian traditions for helping with fatigue and immune function. Omega‑7 oils have been shown to provide benefit in the gastrointestional system, immune system, and cardiovascular system, as well as supporting healthy hair, skin, eyes, and nails


Certified organic seabuckthorn (Hippophae rhamnoides) fruit oil, 24.0% palmitoleic acid, 20.0% oleic acid, 10.0% linoleic acid 600 mg
Certified organic seabuckthorn (Hippophae rhamnoides) seed oil, 20.0% oleic acid, 35.0% linoleic acid 400 mg
Certified organic goji seed oil 40 mg

Suggested use: Adults: take 1 softgel daily or as directed by your health-care practitioner.

All oils are supercritical CO2 extracted from organically grown berries on the Qinghai-Tibetan plateau.

This product is non GMO.

Contains no: preservatives, artificial flavour or colour, sugar, dairy, starch, wheat, gluten, corn, or yeast.

Cautions and warnings: Consult a health-care practitioner prior to use if you are pregnant or breast-feeding; or if you are taking blood thinners or medication or natural health products that could increase the risk of bleeding.

Consult a health-care practitioner for use beyond 3 months.

Known adverse reactions: hypersensitivity/allergy is known to occur; in which case, discontinue use.

Keep out of reach of children.

Do not use if seal is broken.