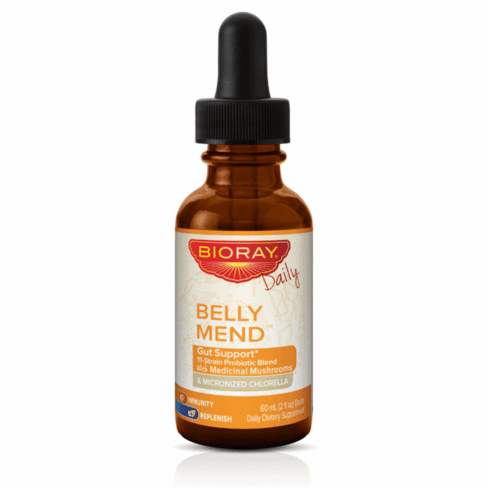 Belly Mend® (organic) by BIORAY
BELLY MENDï¾® (ORGANIC) by BIORAY

Youï¾'ll experience a decrease in stomach discomfort and bloating, and an ease of communication as you support healthy gut balance. BELLY MENDï¾® ingredients are traditionally used to support healthy gut/brain connection, decrease leaky gut, and supports sociability, speech and histamine response.*

Benefits

Improves healthy gut and bowel function*
Supports immunity*
Supports healthy gut/brain connection*
Amplifies speech and sociability*
Decreases leaky gut*
Nourishes the liver*
Provides mild detoxification*

GLUTEN FREE ALCOHOL FREE NON-GMO SOY FREE NON-DAIRY VEGETARIAN NUT FREE

Belly Mendï¾™

Shelf Life: 5 years Storage: Store in cupboard. No refrigeration necessary.

For Teens & Adults Intake Instructions: Shake well.

Take 2 ml, 1 time per day in water, juice, or tea. Recommended for a minimum of 2 - 4 months or as needed depending upon individual imbalances. If pregnant or nursing, consult with a healthcare professional. Keep out of reach of children.