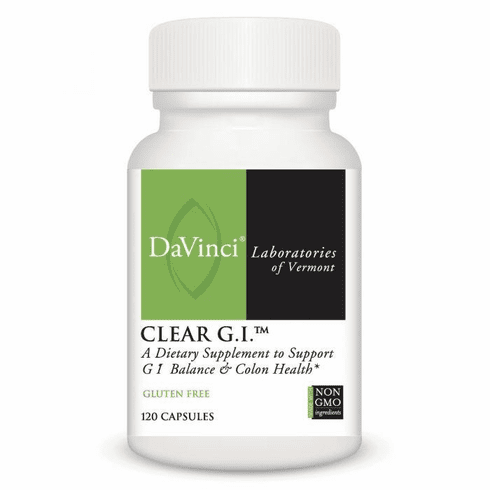 CLEAR G.I. 120 C by DaVinci Labs
CLEAR G.I. 120 C

A dietary supplement to support G.I. balance and colon health.

Product Info

Serving Size: 4 Capsule Servings Per Container: 30

Amount Per Serving


Balance & Capture Proprietary Blend 1395 mg Containing Soluble Fiber (Fibersolᆴ-2 Brand),
Psyllium Seed Husk FOS (Fructooligosaccharides)
Flaxseed Meal
Apple Pectin.
Soothe & Replenish Proprietary Blend 780 mg
Containing N-Acetyl Glucosamine (from Shrimp & Crab),
L-Glutamine
Peppermint
Chamomile
Aloe Leaf Powder
Horsetail Rush (Equisetum arvense) Herb Powder
Rosemary
Ginger Root Powder.
Reds & Greens Proprietary Blend 190 mg
Containing Alfalfa Powder
Spirulina
Beet Juice Powder
Chlorella-Cracked Cell Powder
Parsley Juice Powder
Broccoli Powder
Red Raspberry Powder
Acerola Berry Juice Powder
Cranberry Juice Powder
Watercress
Blessed Thistle
Remove & Detox Proprietary Blend 160 mg
Arabinogalactans
Bentonite Clay
Olive Leaf Extract Black Walnut (Green Hull) Powder
Kelp
Artichoke
Burdock
Garlic
Dandelion Root.

Suggested Use

As a dietary supplement, take 4 capsules daily between meals, or as directed by your healthcare practitioner. Recommended amount can be divided throughout the day.