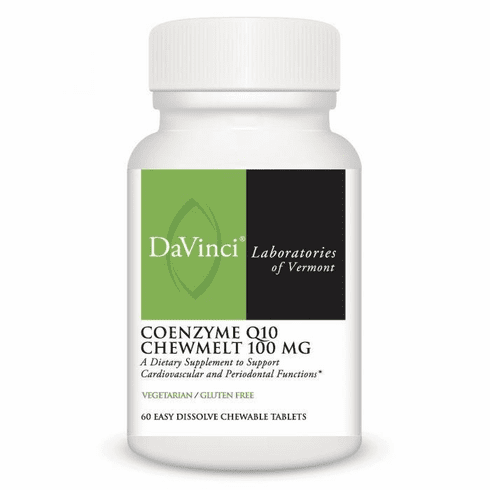 COENZYME Q10 CHEWMELT 100 MG 60 T by DaVinci Labs
COENZYME Q10 CHEWMELT 100 MG (60)

A dietary supplement to support cardiovascular and periodontal functions.* CoQ10 is an essential catalyst for the creation of energy at the cellular level. Coenzyme Q10 is an important antioxidant and is recommended to support proper heart, liver, and gum tissue functions.* Product is available in capsules or pleasant tasting chewable tablets and a quick dissolving chew melt tablet.

Suggested Use: As a dietary supplement, take 1 chewmelt tablet daily with a meal, or as directed by your healthcare practitioner.

Supplement Facts Serving Size 1 Tablet Servings Per Container 60

Amount per Serving % Daily Value


Calories 5
Total Carbohydrates 1 g <1%ニ
Vitamin E (as d-alpha Tocopheryl Succinate) 3.4 mg 23%
Coenzyme Q10 (Ubiquinone) 100 mg *

ニPercent Daily Values are based on a 2,000-calorie diet *Daily Value not established.

Other ingredients: mannitol, silicon dioxide, stearic acid, citric acid, natural orange flavor, and natural pineapple flavor.

A Coenzyme Q10 supplement for cardiovascular and periodontal support.* It is a vital nutrient for the formation of Adenosine Triphosphate, the basic energy molecule used by every cell.
CoenzymeQ10 for Energy
CoenzymeQ10 is found in the mitochondria, where energy is made. Hundreds of mitochondria are present in each cell. CoQ10 is found in the highest concentration in モhigh energyヤ organs such as the brain, heart, muscles, liver, kidneys and pancreas.

CoenzymeQ10 for Overall Support
Coenzyme Q10 is recommended to support immune system, heart, liver and gum tissue functions.*

Recommended to Support:
Periodontal health*
Recurrent or persistent mouth and gum concerns*
Enhanced energy production for a healthy immune response*
Cardiovascular health*
Carbohydrate metabolism*
Oxygen utilization*
Increased circulation, physical energy and stamina*
Liver health and detoxification processes*
Geriatric patients because levels of Q10 in the body decline with age.*