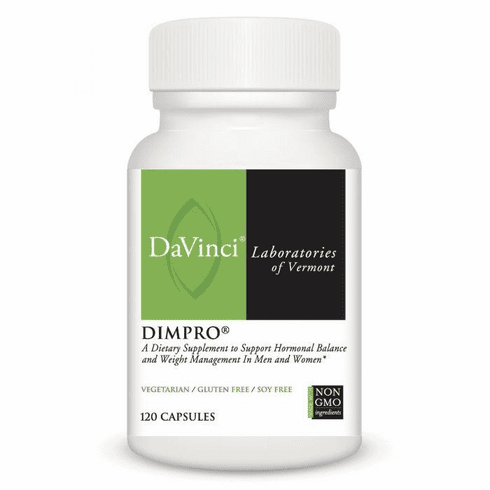 DIMPRO® 120 C by DaVinci Labs
DIMPROļ¾® (120) vy DaVinci Labs

A dietary supplement to support hormonal balance and weight management in men and women.

DIMPROļ¾® is a proprietary blend of DIMļ¾® (Diindolylmethane) with Vitamin E and Phosphatidylcholine. DIMļ¾® causes a beneficial shift in the balance of estrogen, testosterone, and progesterone in both men and women.

Good estrogen metabolites support overall health by functioning as antioxidants, helping to eliminate unwanted materials, mobilizing stored fat (for use as energy), supporting Hormone Replacement Therapy (HRT), as well as weight management, exercise tolerance, development of lean muscle tissue, and by reducing the effects of aging such as those found in menopause and prostate dysfunction.

Suggested Use: As a dietary supplement, take 1 capsule with food, 1 to 2 times daily, or as directed by your healthcare practitioner.

Supplement Facts Serving Size 1 Capsule Servings Per Container 120

Amount per Serving % Daily Value


DIMļ¾® 75 mg * DIMļ¾® (a proprietary enhanced bioavailability complex of starch, diindolylmethane, Vitamin E as tocophersolan, phosphatidylcholine, silica.)

*Daily Value not established.

Other ingredients: microcrystalline cellulose, vegetable cellulose (capsule), vegetarian leucine

Supplemental use of Dimproļ¾® supports your estrogen management system that will help you to achieve your health and fitness goals, whether you are a man or woman, young or old, athlete, body builder or a dieter.