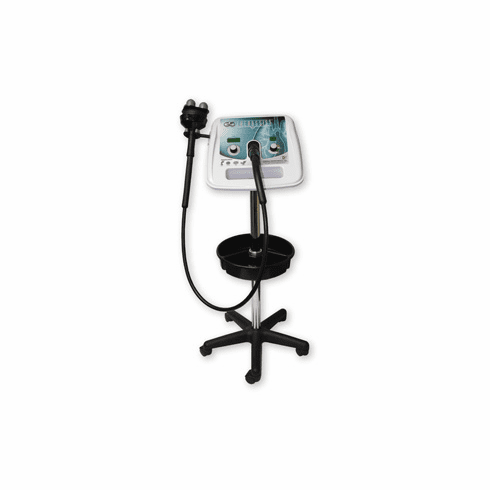 G5 Therassist ® Massage / Percussion Unit
The
G5® Therassist ® Massage/Percussion Unit
is our latest advancement in massage/percussion technology for use in both physical and respiratory therapy applications. The TherAssist is ideal for use in chiropractic, physical therapy, respiratory therapy, and sports medicine applications. This unit features digital solid-state electronic controls. Includes a timer. An expanded cycle per second range (15 - 60 CPS) more closely replicates manual procedures.
Ideal for stress reduction, myofascial release, sports rehabilitation, deep muscle therapy, trigger point reduction, treatment of muscle spasm, pain relief by mobilizing lactic acid, and postural drainage.

Specifications and Features::
Easy to use dial controls with visual displays of CPS
Time and Pulsation Range
Speed feedback logic maintains CPS regardless of load
Versatility: Pole (Included), Table Top and Wall Mountable
Motor runs cooler with digital control (vs. analog control), requiring less amp draw and increasing motor life.
1/17 horsepower,, 24 volt DC
Assembled Dimensions: 44" x 21" 21"
Assembled Weight: 25 lbs.
Applicator Package Included: PRO-PKG.
Approvals: UL, TUV, CE, RoH5
Warranty: 1 Year

View the PRO-PKG. Applicators included with this G5 Therassist Massager.

Austin Medical Equipment offers FREE Shipping on our G5® Units within the Continental US