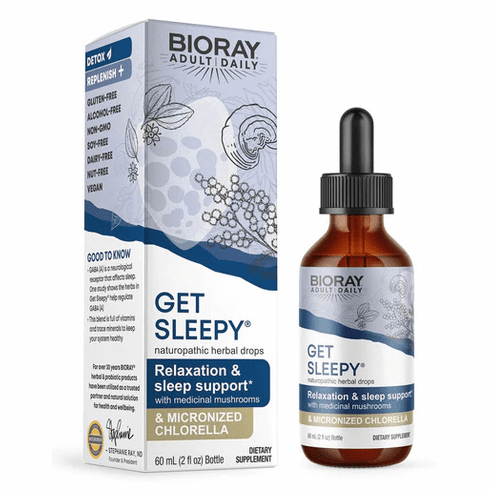 GET SLEEPY« by BIORAY
GET SLEEPY´ż« by BIORAY

RELAXATION & SLEEP SUPPORT* You will fall asleep and stay asleep.* GET SLEEPY´ż« decreases the time it takes to fall asleep, relaxes the mind, calms the body and spirit and promotes sleep throughout the night.*

Benefits
Decreases the time it takes to fall asleep
Relaxes the mind
Calms the body & spirit
Promotes restful sleep throughout the night GLUTEN FREE ALCOHOL FREE NON-GMO SOY FREE DAIRY FREE VEGAN NUT FREE

Get Sleepy´ż«
Ingredients: Silk Tree Bark, Licorice Root◊, Chinese Salvia, Jujube Seed, Ligusticum Wallachi Root, Poria Mushroom◊, Reishi Mushroom◊, Micronized Chlorella (NDF´ż«). Other Ingredients: Vegetable Glycerin, Deionized Water and Natural Maple Flavor.

For Teens & Adults Intake Instructions: Shake well.

Take 1-2 ml, 20 minutes before bed in water or juice. If needed daily for more than 7-10 days, add in Liver Lover´żÖ. If pregnant or nursing, consult with a healthcare professional. Keep out of reach of children.