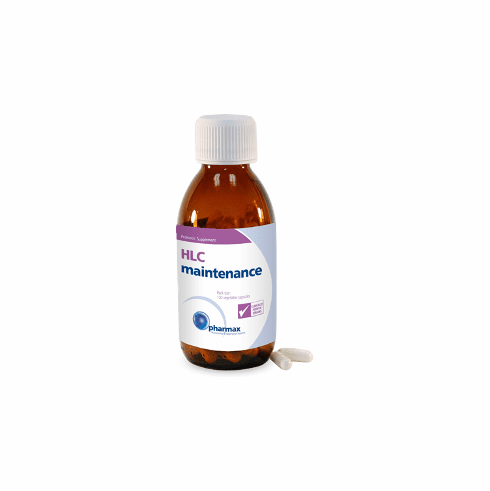 HLC Maintenance (120VC) by Pharmax
HLC Maintenance by Pharmax provides two strains of proprietary human-sourced Lactobacillus acidophilus, Bifidobacterium bifidum and Bifidobacterium animalis subsp. lactis, to specifically assist in re-establishing and maintaining a normal intestinal microflora. Stress, medication, processed foods, environmental contaminants and lifestyle may be some contributing factors which upset the delicate balance of the intestinal flora and imbalances of friendly bacteria.

Recommended Dosage:
Adults and Children (4 years and older): One capsule taken 1-2 times daily with a meal or as professionally directed.

Supplement Facts:
Serving Size: 1 Capsule
Servings Per Container: 120
Each Capsule Contains:

HLC Consortium ..... 2.5 billion viable cells
Lactobacillus acidophilus (CUL-60)
Lactobacillus acidophilus (CUL-21)
Bifidobacterium bifidum (CUL-20)
Bifidobacterium animalis subsp. lactis (CUL-34)(formerly Bifidobacterium lactis)
Fructooligosaccharides (FOS) ..... 100 mg
Other Ingredients:Microcrystalline cellulose, hypromellose, silica, vegetable magnesium stearate


Cautions:
If you are experiencing nausea, fever, vomiting, bloody diarrhea or severe abdominal pain; or if you have an immune-compromised condition, do not use. If symptoms of digestive upset occur, worsen or persist beyond three days, discontinue use and consult your healthcare practitioner.