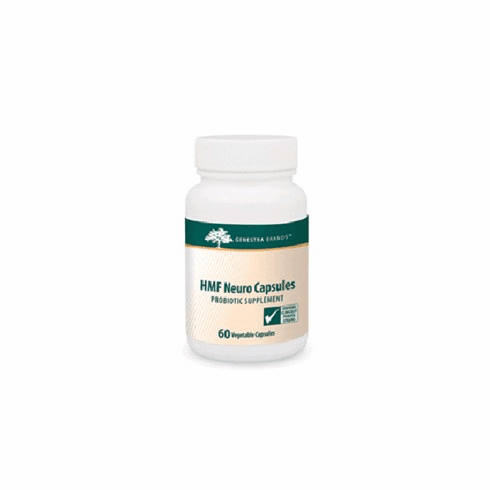 HMF Neuro Capsules (60VC) by Genestra
HMF Neuro Capsules by Genestra is a unique preparation containing various strains and species of proprietary human-sourced Lactobacillus and Bifidobacteria to help maintain the integrity and health of the intestinal tract.

Recommended Dosage:
Take one capsule two times daily with meals, or as recommended by your healthcare practitioner.

Supplement Facts:
Serving Size: 1 Capsule
Servings per Container: 60
Each Serving Contains:

Probiotic Consortium ..... 12 billion CFU
Lactobacillus acidophilus (CUL-60)
Lactobacillus acidophilus (CUL-21)
Bifidobacterium bifidum (CUL-20)
Bifidobacterium animalis subsp. lactis (CUL-34)
Lactobacillus rhamnosus (CUL-63)
L-Glutamine ..... 500 mg
Fructooligosaccharides (FOS) ..... 250 mg
Other Ingredients: Hypromellose, silica, magnesium stearate


Cautions:
If you have an immune compromised condition, do not use. If you are pregnant or breastfeeding; if you are experiencing nausea, fever, vomiting, bloody diarrhea or severe abdominal pain or if you are following a low protein diet, consult your healthcare practitioner prior to use. If symptoms of digestive upset occur, worsen or persist beyond three days, discontinue use and consult your healthcare practitioner.