Leg Sleeve Pair in Black by Incrediwear
The
Incrediwear Leg Sleeves
are embedded with active elements
(Carbon & Germanium)
that work to increase circulation; resulting in reducing inflammation, relieving pain & stiffness, and accelerating recovery.
Black Leg Sleeves come in pairs.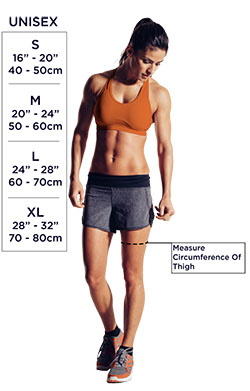 SIZING: Measure circumference of the thigh. (Package contains two sleeves).


S - 16 - 20"
M - 20 - 24"
L - 24 - 28"
XL - 28 - 32"
Incrediwears active elements are semi-conductors, stimulated by body heat that begin working immediately once the product is put on. On average, Incrediwear takes only 20 minutes to feel the difference and bring relief.
The Leg Sleeves increases circulation to accelerate recovery, relieve pain, and reduce inflammation from symptoms affiliated with: quad/hamstring pulls or tears, Arthritis, contusions, lower extremity injuries, stiffness, and aches in legs.
RECOMMENDED USE WITH: Use Incrediwear Calf Sleeve, Ankle Sleeve, Circulation Socks, 5 inch Bandage Wrap, or Knee Sleeve.
CARE & FABRIC COMPOSITION: The Incrediwear Leg Sleeves is easy to clean. Wash warm or cold. Tumble Dry Low. Do not bleach, iron or dry clean.
SPECS: The Incrediwear Leg Sleeves is embedded with Carbon & Germanium for increasing circulation, and is made of Nylon, Polyester, and Spandex for a comfortable feel. The Incrediwear Black Leg Sleeves is made of breathable material and comes in
pairs,
with four sizes to choose from.