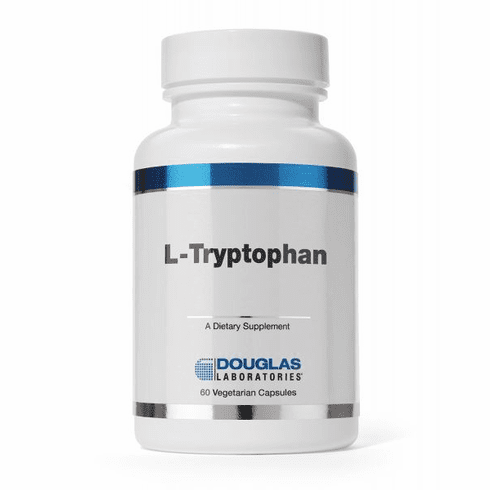 L-Tryptophan by Douglas Labs
L-Tryptophan

L-Tryptophan, supplies 1000 mg of pure L-Tryptophan plus other synergistic cofactors in two vegetarian capsules.

FUNCTIONS: Serotonin, an important brain neurotransmitter, is key in the regulation of appetite, mood, and melatonin production. The presence of serotonin in the brain is associated with a balanced emotional state.

Additionally, as a precursor of melatonin, serotonin is involved in regulating sleep patterns. Serotonin is unable to cross the blood-brain barrier and is therefore synthesized in the brain.

Tryptophan, an essential amino acid, is a precursor for the synthesis of serotonin. Tryptophan crosses the blood-brain barrier and is converted to L-5- Hydroxytryptophan (5-HTP), which in turn is converted into serotonin.

Vitamins B2 and B6, niacinamide and Vitamin C are necessary cofactors to ensure the proper synthesis of serotonin. Studies indicate that supplementation with L-tryptophan may support healthy mood and restful sleep.ニ Other studies indicate L-tryptophan may support women's emotional well being before menstruation.ニ

Additional research indicates L-tryptophan may be helpful in supporting healthy relaxation and occasional food cravings.ニ

L-Tryptophan is a natural relaxant, helps alleviate insomnia by inducing normal sleep; reduces anxiety and depression and stabilizes mood; helps in the treatment of migraine headaches helps the immune system function properly; aids in weight control by reducing appetite; enhances the release of growth hormones; helps control hyperactivity in children.

2 vegetarian capsules contain:
L‐tryptophan (as TryptoPure®) ........... 1000 mg
Vitamin C (as ascorbyl palmitate) ...............10 mg
Riboflavin(as riboflavin‐5‐phosphate).10 mg
Niacin (as niacinamide)...........................10 mg
Vitamin B6 (as pyridoxal‐5‐phosphate).10 mg
Bioperine® (Black pepper extract, fruit) ........ 5 mg
TryptoPure® is a registered trademark of Ajinomoto AminoScience LLC. Bioperine® is a registered trademark of Sabinsa Corporation

SUGGESTED USE: As a dietary supplement, adults take 2 capsules daily or as directed by your health care professional.

SIDE EFFECTS: If you are taking medications for neurological conditions including Selective Serotonin Reuptake Inhibitors [SSRIs] or Monoamine Oxidase Inhibitors [MAOI], or are pregnant or nursing, do not use this product

REFERENCES Murphy SE, Longhitano C, Ayres RE, Cowen PJ, Harmer CJ. Tryptophan supplementation induces a positive bias in the processing of emotional material in healthy female volunteers. Psychopharmacology (Berl). 2006 Jul; 187(1):121‐30. Hartmann E. Effects of L‐tryptophan on sleepiness and on sleep. J Psychiatr Res. 1982 1983; 17(2):107‐13. Markus CR. Dietary amino acids and brain serotonin function; implications for stress‐related affective changes. Neuromolecular Med. 2008;10(4):247‐58. Steinberg S, Annable L, Young SN, Liyanage N. A placebo‐controlled study of the effects of Ltryptophan in patients with premenstrual dysphoria. Adv Exp Med Biol. 1999;467:85‐8. Dougherty DM, Moeller FG, Bjork JM, Marsh DM. Plasma L‐tryptophan depletion and aggression. Adv Exp Med Biol. 1999;467:57‐65.