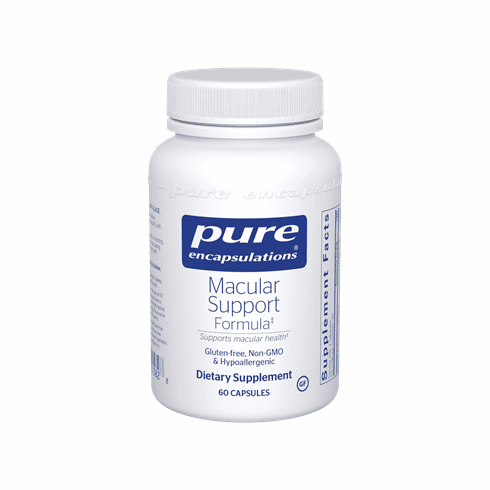 Macular Support Formula 60 or 120 caps by Pure Encapsulations
Macular Support Formula 60 caps by Pure Encapsulations

Also available in 120 Caps

The comprehensive antioxidant formula for healthy eyes

Macular Support Formula is a combination high in antioxidants and botanicals designed to protect and support the macula, the central area of the retina responsible for sharp vision.

Since the macula is extremely susceptible to free radical damage, the research emphasizes the importance of antioxidant supplementation in maintaining and improving macular health. N-acetyl-l-cysteine, a glutathione precursor, has been shown to protect against oxidative damage to the lens and to support healthy glutathione levels. Glutathione is one of the natural antioxidants found in retinal tissues. Bilberry, containing anthocyanidins, may help moderate visual fatigue and improve light to dark adjustments.

Combined with these cofactors, grape seed extract helps provide antioxidant balance in the retina. This formula is also enhanced with lutein and zeaxanthin, the only two carotenoids found in macular pigment. Lutein and zeaxanthin promote the integrity and density of the macular pigment, as well as helps maintain the health of the optical lens. The antioxidant activity of carotenoids and vitamin C provide optimal macular protection and ocular health.


Helps protect and promote eye health
May protect eyes from free radicals
Made with hypoallergenic ingredients

Product Info Serving Size: 2 Capsule Servings Per Container: 30

Amount Per Serving % Daily Value


Vitamin A (as beta carotene) 7500 mcg 833%
Vitamin C (as ascorbic acid) 800 mg 889%
N-Acetyl-L-Cysteine (free-form) 250 mg
Setriaᆴ glutathione (reduced) 50 mg
Bilberry (Vaccinium myrtillus) extract (fruit) (standardized to contain 25% anthocyanosides) 80 mg
Grape (Vitis vinifera) extract (seed) (standardized to contain 92% polyphenols) 50 mg
FloraGLOᆴ lutein 10 mg
Zeaxanthin 2 mg


Proprietary mixed carotenoid blend (as lutein, lycopene, zeaxanthin) 1445 mcg

Other Ingredients: vegetarian capsule (cellulose, water), ascorbyl palmitate

Dietary Considerations
Gluten Free
Non-GMO

Suggested Use As a dietary supplement, take 2 capsules daily, with a meal.