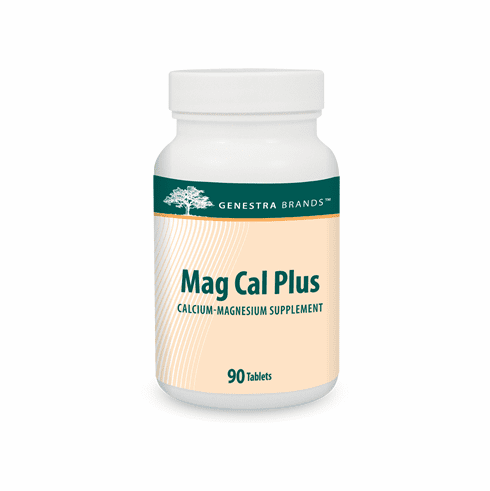 MAG CAL PLUS 90 T By Genestra
MAG CAL PLUS 90 T By Genestra

Genestra Mag Cal Plus is a combination of magnesium, calcium, vitamin D, B vitamins and valerian.
Helps maintain muscle function and to help in tissue formation.
Calcium intake, when combined with sufficient vitamin D, a healthy diet, and regular exercise, may help promote healthy bones and joint comfort.
May promote a feeling of calm.
Convenient tablet format - Increases patient compliance.

Serving Size 1 Tablet

Servings per Container 90

Each Tablet Contains % DV


Vitamin D (cholecalciferol) 100 IU 25%


Niacin (niacinamide) 6.25 mg 31%


Vitamin B6 (pyridoxine hydrochloride) ... 2.5 mg 125%


Calcium (calcium aspartate/ carbonate) ... 100 mg 10%


Magnesium (magnesium aspartate/ oxide) ... 150 mg 38%


Valerian (Valeriana officinalis) Root ... 30 mg *

Recommended Adult Dose:

Take one tablet three times daily with meals, a few hours before or after taking other medications, or as recommended by your healthcare practitioner.