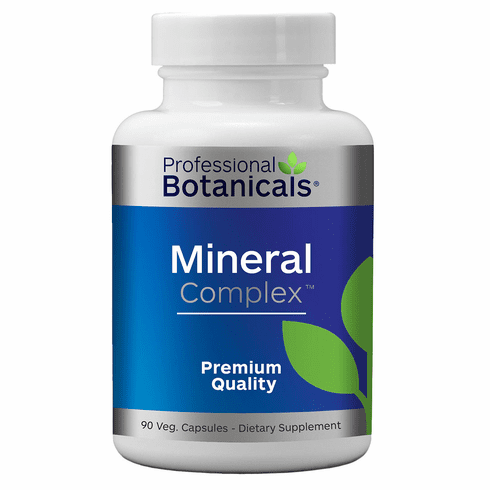 Mineral Complex (90C) by Professional Botanicals
Mineral Complex contains more minerals in a better bio-available form than a chelated or a suspended form. These minerals originated from ancient composed sea life and are living products rather than rocks. Research verifies the superiority of absorption and utilization of these products over all other mineral products.

Recommended Dosage:
One (1) capsule with each meal.

Supplement Facts:
Serving Size: 1 Capsule
Servings per Container: 90
Each Serving Contains:
Proprietary blend: Trace Mineral 74, (a non volcanic clay mineral from an ancient inland seabed consisting of composted seaweed & crustacea marine life containing various organic element in trace amounts), Kelp, Alfalfa seed, Shavegrass (horsetail herb), and Spirulina.
Contains: EDS® (Amylase, Protease, Lipase & Cellulase).
Other ingredients: Gelatin capsule