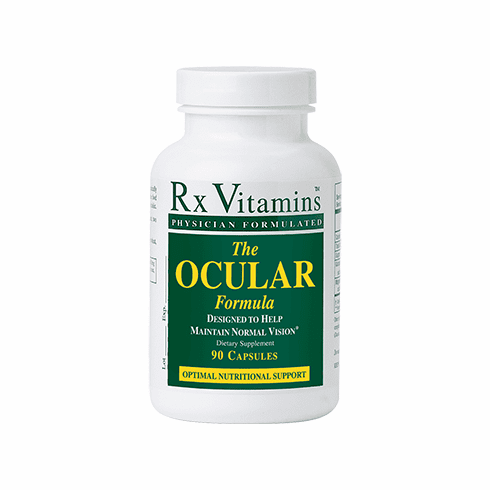 Ocular Formula 90 caps By Rx Vitamins
Designed to help maintain optimal vision.*

The Ocular Formula is a comprehensive blend of photo-protective nutrients that provide effective protection for the eye against environmental assaults, and help maintain normal vision.*

Product Info Serving Size: 3 Capsule Servings Per Container: 30 Amount Per Serving Viatmin A (as beta carotene, retinol; from Dunaliella salina) [algae] 20000 IU Vitamin C (as ascorbic acid) 200 mg Vitamin E (as d-alpha-tocopheryl succinate naturally occurring beta, gamma and delta tocopherols) 100 IU Zinc (as l-monomethionine) 30 mg Selenium (as selenomethionine) 50 mcg Copper (as glycinate) 3 mg Citrus Flavonoid Complex (Standardized to 48% [48 mg] Flavanones, 2% [2 mg] Flavanols, Flavones and related phenolic compounds) 100 mg Bilberry (vaccinium myrtillus) [Fruit] (standarized 25% [25 mg] anthocyanosides) 100 mg L-Glutathione (free form amino acid) 10 mg Grape Seed (standardized 95% [9.5 mg] proanthocyandins) 10 mg Lutein (bioactive carotenoid) 6 mg CoQ10 (ubiquinone) 5 mg Zeaxanthin (bioactive carotenoid) 1 mg

Recommended Usage: As a dietary supplement, take three capsules daily or as recommended by your health care professional.