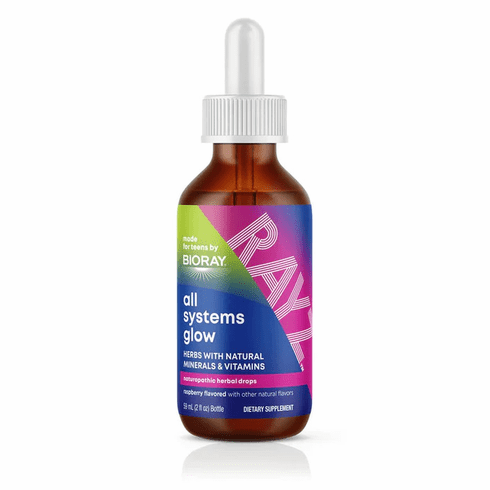 RAYZ All Systems Glow by BIORAY
RAYZ All Systems Glow by BIORAY

You know you could get more minerals and vitamins by eating more wholesome foods. But why when white foods taste so good? This is where All Systems Glow; comes in. ASG has some kick a** herbs that naturally add the nutrients that your body and cells crave.

This vegan formulation is a one-of-a-kind herbal tincture that is high in natural trace minerals and vitamins. We use a cutting edge micronization technology and the ancient art of fermenting fruits and vegetables for easy digestion. If you're a particularly picky eater or just not getting enough goodness in ya, this is a great add-on to your day. What can we say other than try it? We think it might be the missing piece to acing those homework assignments and adding the energy you need in your day.

Systems Glow; Herbal Ingredients:


Nettle herb, Alfalfa, Kelp, Horsetail herb, Oatstraw, Micronized Chlorella, Red Raspberry herb, Camu camu, Red Clover, Fermented: Blue Berry, Cranberry, Goji Berry, Broccoli, and Artichoke.

All Systems Glow; Flower Essence Ingredients:
Cherry Plum, Clematis, Impatiens, Rock Rose, Star of Bethlehem.

Ingredients: Kosher vegetable glycerin, deionized water, raspberry with other natural flavors.

Take 1 full squeeze of the pipette, 2-3 times a day, directly into your mouth or mix into your favorite drink. Shake well before each use.

Intended for teens 12-18 years old. Consult with your teenís health practitioner before taking this or any dietary supplement.

Shelf Life: 5 years Storage: Store in cupboard. No refrigeration necessary. Naturopathically formulated with wildcrafted, organic herbs, and selectively imported botanicals for potency and goodness.